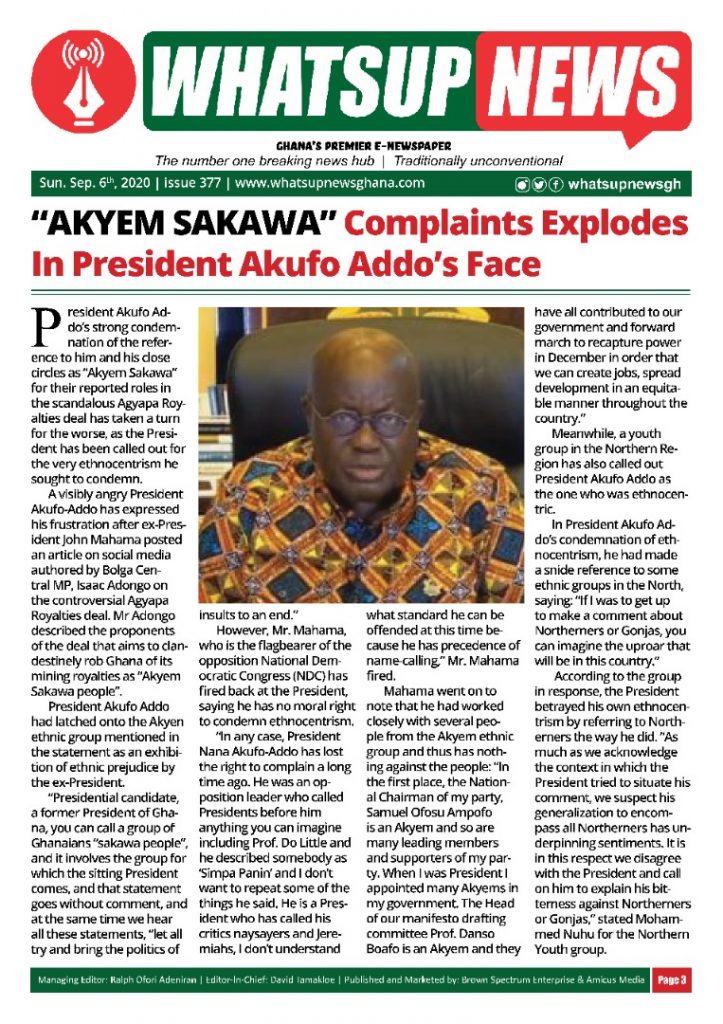 President Akufo Addo's strong condemnation of the reference to him and his close circles as "Akyem Sakawa" for their reported roles in the scandalous Agyapa Royalties deal has taken a turn for the worse, as the President has been called out for the very ethnocentrism he sought to condemn.
A visibly angry President Akufo-Addo has expressed his frustration after ex-President John Mahama posted an article on social media authored by Bolga Central MP, Isaac Adongo on the controversial Agyapa Royalties deal. Mr Adongo described the proponents of the deal that aims to clandestinely rob Ghana of its mining royalties as "Akyem Sakawa people".
President Akufo Addo had latched onto the Akyen ethnic group mentioned in the statement as an exhibition of ethnic prejudice by the ex-President.
"Presidential candidate, a former President of Ghana, you can call a group of Ghanaians "sakawa people", and it involves the group for which the sitting President comes, and that statement goes without comment, and at the same time we hear all these statements, "let all try and bring the politics of insults to an end."
However, Mr. Mahama, who is the flagbearer of the opposition National Democratic Congress (NDC) has fired back at the President, saying he has no moral right to condemn ethnocentrism.
"In any case, President Nana Akufo-Addo has lost the right to complain a long time ago. He was an opposition leader who called Presidents before him anything you can imagine including Prof. Do Little and he described somebody as 'Simpa Panin' and I don't want to repeat some of the things he said. He is a President who has called his critics naysayers and Jeremiahs, I don't understand what standard he can be offended at this time because he has precedence of name-calling," Mr. Mahama fired.
Mahama went on to note that he had worked closely with several people from the Akyem ethnic group and thus has nothing against the people: "In the first place, the National Chairman of my party, Samuel Ofosu Ampofo is an Akyem and so are many leading members and supporters of my party. When I was President I appointed many Akyems in my government. The Head of our manifesto drafting committee Prof. Danso Boafo is an Akyem and they have all contributed to our government and forward march to recapture power in December in order that we can create jobs, spread development in an equitable manner throughout the country."
Meanwhile, a youth group in the Northern Region has also called out President Akufo Addo as the one who was ethnocentric.
In President Akufo Addo's condemnation of ethnocentrism, he had made a snide reference to some ethnic groups in the North, saying: "If I was to get up to make a comment about Northerners or Gonjas, you can imagine the uproar that will be in this country."
According to the group in response, the President betrayed his own ethnocentrism by referring to Northerners the way he did. "As much as we acknowledge the context in which the President tried to situate his comment, we suspect his generalization to encompass all Northerners has underpinning sentiments. It is in this respect we disagree with the President and call on him to explain his bitterness against Northerners or Gonjas," stated Mohammed Nuhu for the Northern Youth group.