For the umpteenth time, another National Security operative has been arrested after leading what appears to be an armed robbery ring that struck in an operation recently.
Joseph Okoh, also said to be known as Nana Yaw Arko, was arrested after he had led his gang to pull the robbery at Ajasco Red Top at Kokrobite, a suburb of Accra.
His gang of buccaneers who have since been arrested by the Police include Benjamin Otoo aka Dada Joe, Tony Mensah Yedu, aka Big Joe and Bismark Asabree aka Dagabano.
The gang had reportedly dressed in military and Police uniforms to undertake the robbery in which they stole everything from their victims including a Ghc50 note.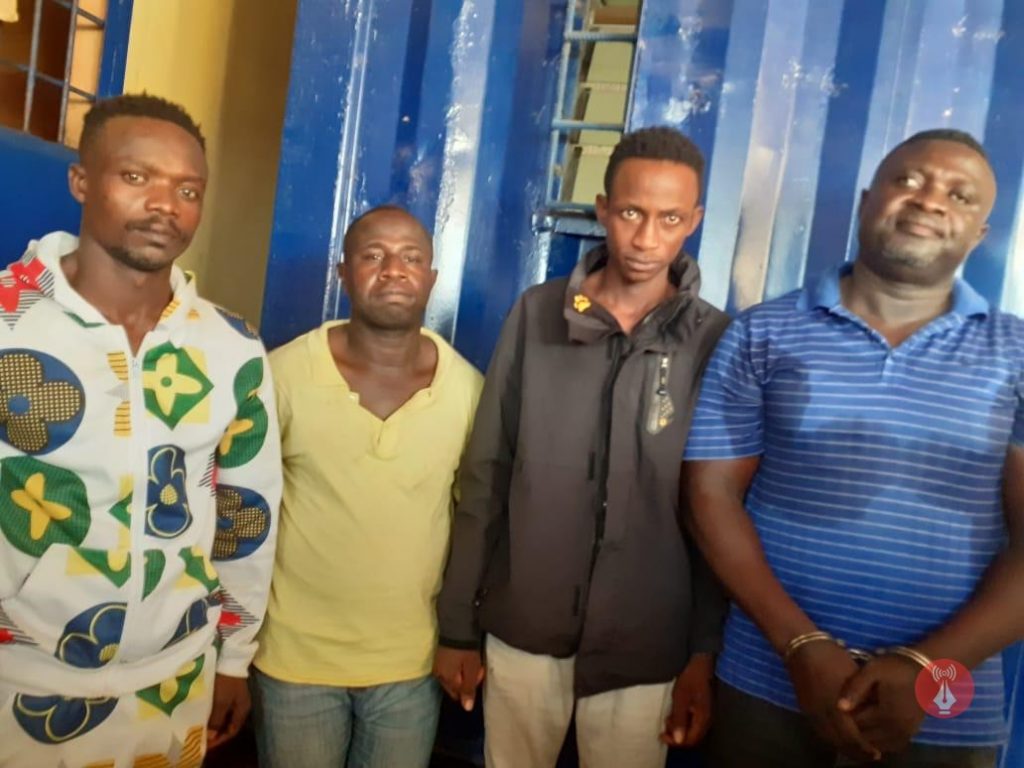 A preliminary investigation by the Ghana Police Service revealed that the three men broke into the rooms of Ernest Monday and Rebecca Akumine on November 18, 2021, at approximately 11:25 a.m.
They allegedly stole three laptop computers. 1 iPhone 8 Plus, 3 Infinix smartphones, 1 Techno Cammon7, 1 Bluetooth speaker, 1 extension board, 3 phone chargers, 2 laptop chargers, and Ghc 50.00
The three suspected robbers are said to have also kidnapped Ernest Monday in an unregistered white pick-up truck, and later dropped him off at an unknown location, and fled.
Ernest Monday and Rebecca Akumine reported the incident to the police, and the gang was later busted.
Tony Mensah, Bismark Asabre, and Nana Yaw Arko were apprehended with 20 assorted phones, 1 taxi cab, 3 laptops, 1 motorbike, 1 locally manufactured pistol, a police vest, 1 Gota, and 14 assorted wristwatches.
According to reports, the suspects were interrogated and it was out of the investigations that their gang leader was revealed to be a National Security operative.
Joseph Okoh was in possession of a Ministry of National Security ID card with ID Number – MNS2/TEMP/21/296. His Unit is given as "Operations."
This is not the first time National Security operatives have been caught in an armed robbery heist.
In April 2020, another National Security operative attached to the Jubilee House, Anas Adams, was arrested in a robbery bust at Asankragua after he led a group of robbers into another robbery.
There have also been a number of Police and Military officers who have been caught leading armed robbery gangs.
Security analysts have blamed the proliferation of robbers into National Security to the Akufo-Addo government's inundation of National Security with members of the ruling New Patriotic Party (NPP)'s goon squads including Invisible Forces and Delta Forces.